What is a Sniper Bot, and how to make money using one?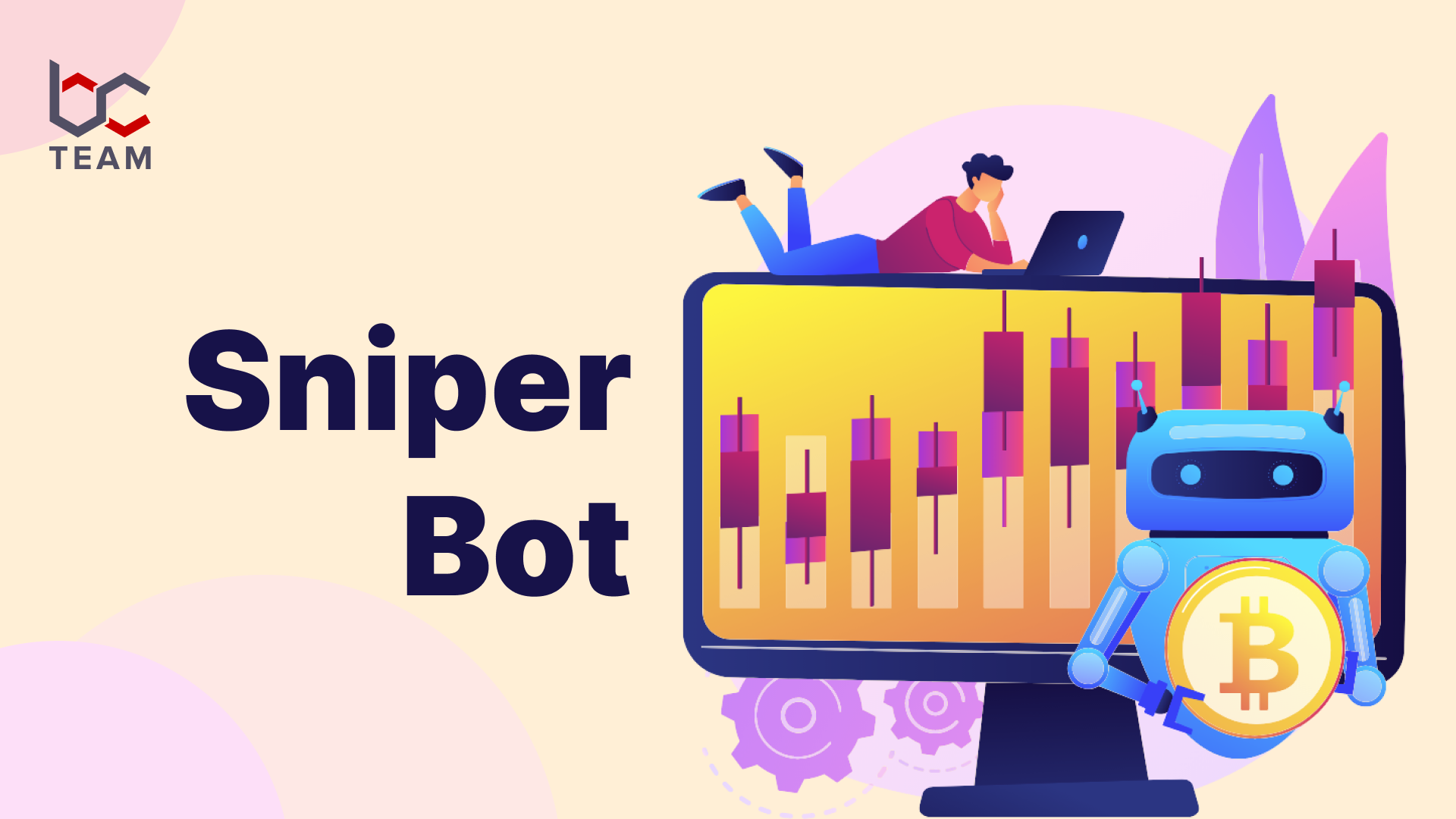 It is important for traders to track the price dynamics of tokens after they're listed on DEX exchanges in order to profit from the volatility of the assets. This task is handled by Sniper Bots, which are automated programmes for trading cryptocurrencies.
We explore what sniper bots are, where to find them and what their advantages and disadvantages are.
What is a Sniper Bot?
A Sniper Bot is a trading robot that tracks and quickly buys new tokens as soon as they are listed on a decentralized exchange. This means that the trader no longer has to constantly watch the market and wait for the moment when he can redeem the listed tokens.
Sniper bots create a buy order the moment the tokens hit the market, so you can acquire assets in the same second. For this purpose, they scan the blockchain and identify transactions to do with the creation of liquidity pools. Once they are formed, the bots immediately make a purchase, and the user becomes one of the first buyers of tokens at the lowest price. Depending on the functionality, the bot can also solve other tasks:
Sell tokens at a predetermined price or percentage of profit relative to the amount purchased.
Set the percentage of slippage before the purchase. Due to low liquidity after the listing, the order may not be triggered, and the purchase may not take place. Therefore, traders on decentralized exchanges are often advised to set a slippage percentage between 12% and 20% to avoid order cancellations.
Setting parameters for buying/selling tokens and others.
The essence of earning money using Sniper Bots is simple: you configure the parameters for automatically buying and selling tokens when you add liquidity on decentralized exchanges. Sniper Bots allow you to buy tokens at a low price and sell them at a higher price as liquidity increases and the price of digital assets rises.
Advantages of a Sniper Bot
Trade automation
Traders no longer need to track a token's listing and buy tokens manually. This is especially important when the date of the listing on a DEX is not known. Moreover, developers can move the listing to a later or even earlier date. With a sniper bot, you never miss a listing and never forget it.
High probability of making a profit
With bots, you are most likely almost guaranteed to make a profit, as it is rare for the price of tokens to fall immediately after adding liquidity, as tokens must first be bought to sell. This is exactly what sniper bots do: they offer the opportunity to buy new tokens before anyone else.
Crash protection
The bot allows you to prepare for the sale in advance. When you trade manually, the unexpected can happen. For example, you can forget to increase the percentage of the slip and then the order does not work, and you miss buying the token.
Traders interact with the decentralized exchange via the web interface or mobile wallet apps. If the internet connection is down or the device is not working, you miss the time to buy. With Sniper Bots, you can avoid all this.
However, errors can lie in the work of the bots themselves, especially if they are not updated, or the developers are not skilled enough to create them.
Get ahead of other traders
If you trade manually, it will simply be difficult to have time to buy tokens when liquidity is added to the DEX the first. Also, you still have to compete with other bots that react much faster than humans, and you will most likely fail. It is not easy to compete with other traders as many factors influence success:
Correct time and date settings on the device.
Response speed (counting in milliseconds)
Performance of the device and speed of the internet connection
And finally, luck also plays a role.
Bots give you a significant competitive advantage and, in many cases, increase the probability of success.
Risks and other disadvantages of a Sniper Bot
Manipulation by developers
The disadvantages of closed-source bots are that developers can add various functions without the users' knowledge, for example intercepting private keys or selling tokens to merchants at an inflated price to make a profit. No one can guarantee that unforeseen situations will not arise if you use software by anonymous developers.
Fraud
If you search for a bot on the Internet, you run the risk of falling victim to a scammer who cheats you by simply draining your account or offering a malicious sniper bot. The craftiest attackers may first sell you malware for a handsome sum and then use a bot to steal your money. Therefore, it is more reliable to commission the development of your own bot to a company or a non-anonymous developer.
Blockage risks
Developers of decentralized exchanges actively fight bots using the AntiBot system and block such programs when they are detected.
Not all sniper bots are able to bypass this protection. Normally, this function is only available in premium programmes.
Potential losses
Although, in most cases, early buyers benefit from the additional liquidity on the exchange, there remains a risk of profit and loss. This is because the token can be listed by attackers who trigger a sale at an inflated price or maliciously crash the price after it has been added to the liquidity pool.
Such cases are extremely rare and mainly involve unknown tokens. In any case, it should be borne in mind that decentralized exchanges cannot offer protection against such incidents, as any user can issue, list and sell tokens on DEX.
Examples of Sniper Bots
The list of sniper bots is provided for informational purposes only and is not a recommendation or guide to action. We do not know what goals and motives are pursued by the developers of these bots, so you assume all possible risks by working with them. You can order the development of your own bot to avoid these risks.
Cryptostream 24
A Bot for buying tokens on the listing of the PancakeSwap exchange on the BNB Chain network. To get started with the bot, you need to enter the private key and the address of the token contract or website if the former is not yet known.
The Cryptostream 24 bot allows you to set the purchase amount, slippage percentage, and desired profit, as well as set the cost of gas and the sale of purchased tokens in parts.
Pancake Sniper Bot
Pancake Sniper Bot offers a choice of several trading bots for trading on the PancakeSwap exchanges on the BNB Chain network and Uniswap on the Ethereum blockchain.
The first trading robot of this type appeared in February 2021, after which the developers expanded the list of bots and added new features. The bots are open-source, which every user can check out, but are to be paid for: their cost varies from $1,299 to $2,399 depending on the platform and functionality.
The Pancake Sniper bot automatically scans liquidity pools and redeems newly added tokens in milliseconds, which is ahead of many traders. The advanced version of the bot allows you to bypass blocking. This feature is usually not available in free versions. Another advantage is regular free updates that improve the efficiency of the trading bot, including updates for the PancakeSwap V3 and Uniswap V3 protocols.
Thanks to the Pancake Sniper Bot, customers were able to become the only buyers of Velahalla and Pulsepad at launch, according to the developers. On the site, you will find a detailed FAQ and all the necessary instructions for installing and configuring work with the bot.
Crypto Sniper
An open-source bot is written in Node.js that sells and buys tokens as soon as they are added to liquidity pools on decentralized exchanges in the BNB Chain ecosystem. There is a basic free version on GitHub that anyone can download and install on their computer, but the functionality is limited.
For example, traders can only buy and sell tokens in pairs with BNB. The premium bot, in addition to BNB Chain, supports Ethereum, Avalanche, Fantom (still in testing) and Polygon and also includes advanced features:
Trading in any pairs;
Switching between automatic and manual selling;
Scanning mempools;
Automatic updates;
Trailing auto-sell;
Customer support.
One of the main disadvantages of the Crypto Sniper bot is control through the terminal and the lack of a graphical interface. However, the bot page has the necessary instructions for setting up and working with the bot.
The Sniper Bot
Another bot for automatic quick buying and selling after adding tokens to PancakeSwap with the AntiBot lock bypass system. The Sniper Bot is to be paid for and available with a subscription for $250 per month, but a free trial period of 30 days is provided for testing.
The Sniper Bot can automatically scan and add contract addresses for trading new tokens on PancakeSwap, Uniswap, SushiSwap, OpenSea, QuickSwap, SolSea, BakerySwap and other decentralized exchanges and marketplaces. It is likely that the list of supported sites will expand in the future.
The bot works very well. The Sniper Bot scans all pending transactions in the mempool and detects the addition of liquidity for new tokens on DEXes. As soon as the bot detects a transaction, it makes a purchase according to the rules that the user has set in advance.
UniSniper Bot
Once again, an open-source sniper bot for PancakeSwap that monitors and «catches» launches on the BNB Chain network and allows users to automatically buy and sell new BEP-20 tokens.
UniSniper Bot allows you to customize the parameters for yourself and add custom features to improve trading, has the functionality to increase efficiency and bypass the AntiBot system and takes automatic profit to get a predetermined profit. Users download the bot along with open source code and receive all instructions and 24/7 support by paying a one-time fee of $1297.
Where to find Sniper Bot and useful tips
We cannot recommend any particular service. You can search for suitable options yourself using Google or other search engines. Study all information about the bot in detail, check what is written about it in forums and thematic groups, e.g. on Reddit or Telegram, and also check the source code if it is open.
Here are a few tips that can help you choose a sniper bot.
Use open-source bots
Developers can make mistakes or maliciously build in backdoors to steal users' private keys, for example, and then steal assets from their wallets. If the sniper bot's code is open, you can review it yourself or ask developers you know to do so to ensure that its use does not pose a serious threat to your cryptocurrency assets.
Order the development of your own Sniper bot
To avoid the risk of falling victim to a scam and to avoid losing assets due to mistakes in developing a trading bot, you should order the development of a Sniper bot from trusted companies like BC Team. This way, you can control the development process and customize the programme to get the functionality you need.