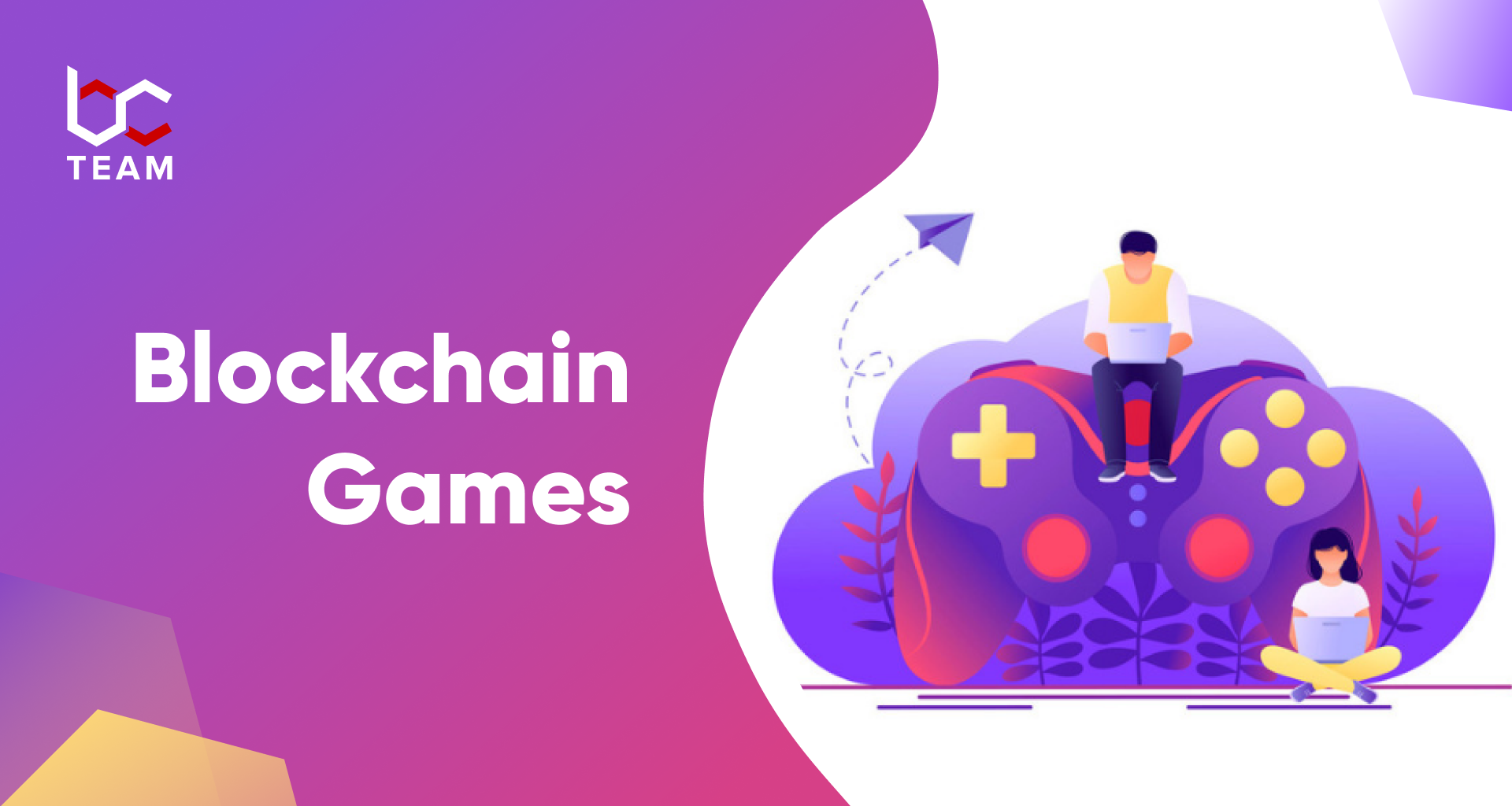 Blockchain games have become popular because players can more than just pass the time by immersing themselves in the gameplay but also monetize their free time. Blockchain games have spawned trends such as Play-to-Earn (P2E), Free-to-Play (F2P) and other similar genres: Move-to-Earn (M2E) and Build-to-Earn (B2E).
The growing interest in decentralized games is keeping pace with the hype around Non-Fungible Tokens (NFTs) and the metaverses. Of course, not all of these became popular, but some of them managed to make a lot of noise and still attract the attention of crypto users. In this article, we will talk about the top games on the blockchain.
What are blockchain games in general?
Blockchain games are games developed with the help of blockchain technology and using a real economy (tokenomics). In other words, game items in blockchain games are real goods that can be bought with platform-owned assets or other cryptocurrencies.
Players can collect items, buy and upgrade game characters, earn money with them and then sell them on marketplaces to other participants or collectors.
There are many genres of blockchain games, from action to MMORPG. In addition, blockchain games are divided into areas that determine how players earn money:
Play-to-Earn or P2E: this method involves investing to buy and upgrade characters. The more money a player invests, the greater the advantage over other players and the higher the chance of winning competitions and receiving rewards in the form of tokens, valuable in-game items, and NFTs.
Free-to-play or F2P is a series of blockchain games that allow you to earn money without investing. Many P2E games have a high minimum entry threshold, which makes it difficult for players with a small capital to compete with rich players and win and earn money accordingly. In Gods Unchained, for example, players can get a free card set to compete against other players. This set cannot be sold, but you can sell the trophies you win with it.
Move-to-Earn or M2E is a new type of game where players buy special items (shoes or clothes) and earn digital tokens while moving around in the real world. This method has become very popular thanks to Stepn, which we will discuss in more detail in this article.
Build-to-Earn (B2E) and Learn-to-Earn (L2E) are new emerging trends in the crypto industry. In B2E games such as Metacity, players can build virtual objects and earn money, while in L2E games, they can learn new disciplines and earn money in return. Although the concept of learn-to-earn is not new and has already been used by Coinbase Earn and CoinMarketCap Earn, blockchain technology can take this direction to a new level. At Let Me Speak, for example, users can buy NFTs that generate income while learning English. This is a great way to combine business and pleasure and provide additional motivation to learn.
Here are the top 10 blockchain games that enabled millions of gamers around the world to earn money just by playing games.
Decentraland (MANA)
This is a unique project that combines a Metaverse and a decentralized autonomous organization (DAO). Decentraland positions itself as a virtual reality platform on the Ethereum blockchain.
In other words, Decentraland is a fully decentralized virtual world where users can own and trade digital properties on the blockchain.
The project's native token MANA is the largest gaming asset in the crypto industry and ranks 34th on CoinMarketCap, with a cap of over $2 billion at the time of writing. Users can buy and sell land in the virtual metaverse with MANA tokens. The virtual land itself is offered in the form of Non-Fungible Tokens (NFT) LAND.
The Sandbox (SAND)
Another virtual metaverse with its own NFTs and tokenomics. The Sandbox was inspired by another famous game, Minecraft, wherein players can create freely pixelated virtual worlds and entire universes with their own stories. The Sandbox uses blockchain technology at its core, and players can buy and sell digital properties.
The main currency of the platform, for which users buy and sell virtual properties, is native SAND tokens. The Sandbox project was initially supported by leading cryptocurrency exchange Binance, which issued SAND tokens as part of the launchpad.
Despite the fact that The Sandbox was released relatively recently (in 2021) by Pixowl, it has become one of the leading gaming platforms that have popularized the play-to-earn direction. The project has seen investment from such well-known companies as Atari, Helix, and CryptoKitties, who have developed the world's first blockchain game on the Ethereum platform.
SAND tokens rank second among gaming projects and 39th among all cryptocurrencies in terms of capitalization. According to CoinMarketCap, SAND's capitalization is about $3.8 billion. Like Decentraland, The Sandbox is also based on the Ethereum blockchain and uses the functionality of smart contracts. The platform also implements the concept of Decentralized Autonomous Organisation (DAO).
Axie Infinity
The game leads the way in terms of the daily volume of funds interacting with the protocol's smart contract, which exceeds $17 million at the time of writing. This places Axie Infinity second among all blockchain games in terms of the number of smart contract assets, which is ~$492 million. Despite this, the number of users is around $10.8k. This indicates that the game is in demand among large investors and holders, for whom the game's characters have become valuable collectibles.
Axie Infinity is a popular blockchain reminiscent of Pokemon. Pokemon inspired the game's creators. The game was developed on the Ethereum sidechain called Ronin, which also acts as a blockchain bridge between these two networks.
The core principle of the game is that players buy playable Axies characters, whose appearance can be customized to their liking, and then use them to fight or breed new virtual monsters, similar to the other well-known game CryptoKitties. The new Axies come in different levels of rarity, from common to legendary. The more unique the figure, the higher its value in the marketplace.
Axie Infinity has not only become one of the biggest games but has also gone down in the history of the crypto market as the victim of the biggest attack on the network. Hackers penetrated the Ronin network and were able to withdraw more than 600 million dollars in ETH coins.
Despite this, the game remains one of the leaders in the crypto industry, and the creators promised to compensate for all losses. The native token of the AXS project, like MANA and SAND, is among the top 50 cryptocurrencies with a capitalization of more than $1.25 billion.
Stepn (GMT and GST)
This is a relatively new project with GameFi elements launched in August 2021 on the Solana blockchain and rapidly gaining popularity in the NFT space due to its high throughput and low network fees. Stepn positioned itself as a «Web3 lifestyle app» and also became the creator and populariser of the move-to-earn genre, offering users monetization and gamification of fitness. Such was the hype around the app that Stepn was followed by many clones seeking to emulate its success, such as Step App on the Avalanche blockchain, Dotmoovs on Ethereum, and Movey and Jumpn on the BNB Chain blockchain.
Stepn users buy virtual NFT shoes through the app, which they can use to earn native Green Satoshi Tokens (GST) by simply walking or running, as long as they have their smartphone with them. The more expensive the shoes are, the more you can earn with them. Also, it is enough to own only one NFT to earn income, or you can buy multiple tokens to increase your earnings even more.
The project has also released the GMT governance token. Despite the fact that the project has been around for less than a year, the capitalization of the GMT token has already reached almost $8 billion. Almost immediately after the release of the IDO, the token was listed on major crypto exchanges such as Binance, Coinbase, Kraken, Huobi Global and OKX, and project investors included such renowned companies as Solana Capital and DeFi Alliance. The Stepn team plans to add more blockchains in the future.
5 Splinterlands (SPS)
Splinterlands is the leading trading card game with over 350,000 users, according to DappRadar. The game runs on its own Hive blockchain, which is compatible with Ethereum, Tron and WAX networks.
Splinterlands users can buy and sell playing cards and collect and customize a set to earn cryptocurrency by competing with other players on PC or mobile devices. All cards are divided into factions: Fire, Water, Earth, Death and so on, as is often the case in other popular games such as Magic: The Gathering. Users can earn rewards by completing daily quests and participating in ranked matches and tournaments.
The main game currency in Splinterlands is the native token SPS. The uniqueness of the game is that every player, regardless of their skill and collection size, can earn money in the game by obtaining trading cards or their sets, potions and Dark Energy Crystal Tokens, for which playing cards can be bought and sold.
Foreign Worlds (TLM)
Alien Worlds is a decentralized metaverse based on the Ethereum, BNB Chain and WAX blockchains that represents a real universe. Players can buy properties on different planets, form alliances and complete intergalactic quests, all of which are rewarded with the local cryptocurrency Trilium (TLM). Alien Worlds was one of the first projects of its kind.
Players can also move between planets with their own or rented spaceships. The project was initially supported by the crypto exchange Binance, which issued the TLM token as part of its launchpad.
The TLM token is both a utility and governance token, allowing its holders to participate in the management of the platform and control its development.
MOBOX (MBOX)
Another metaverse or, as the team calls it, MOMOverse, which was also supported by Binance in the beginning. The MOBOX platform combines the power of decentralized finance (DeFi) and NFT in a functional GameFi multiverse consisting of different zones: gaming, governance, and trading.
Players can buy, rent and trade NFT items called MOMOs in the marketplace. These NFTs can mine cryptocurrency. MOBOX also introduces a new concept of NFT farming.
Players can upgrade their characters to increase the hashrate of their MOMOs and earn more cryptocurrency. MOMOs also increase the strength of other playable characters competing in games like Blocks Blower. Users can earn MBOX tokens by farming or winning weekly game tournaments.
Upland
The unique feature of Upland is that the game has created an alternative virtual world where players can buy land with the same addresses as in the real world. In other words, users own and trade land in the form of NFTs linked to real addresses.
On their own website, players can build virtual real estate properties and earn UPX tokens in the process. In a sense, it can be said that the Upland game is the founder of the build-to-earn direction, even if it has not yet been as widespread as play-to-earn and move-to-earn styles.
The aim of the game is to blur the boundaries between the real and virtual worlds. Previously, UPX tokens issued on the EOS blockchain were listed on some exchanges, but then the developers decided that players could only use them within the game. You can still exchange tokens with other players and buy and sell properties for them, but you cannot trade them outside the Upland metaverse. It is also possible to buy and sell virtual objects for fiat currency.
The creators of the project justify this by saying that they are striving to meet all the regulatory requirements of the US Securities and Exchange Commission (SEC), which could recognize tokens as securities.
DeFi Kingdoms
DeFi Kingdoms is both a gaming and an exchange platform (DEX) on the Harmony blockchain. Players travel through virtual worlds that represent specific areas of DEX: Marketplace, Barter, Liquidity, etc. The project was backed at an early stage by major investors, including Coinbase and Galaxy Digital.
In fact, DeFi Kingdoms is not a game in the usual sense but just makes using a decentralized exchange an exciting gaming experience for now. Over time, more play-to-earn features will most likely be added, and the platform will evolve into a full-fledged role-playing game with its own economy, which will be based on versatile GameFi.
Gods Unchained
Gods Unchained was one of the first and most popular free-to-play trading card games based on the WAX blockchain. Each individual player receives a starter set of cards to use in battles with other players for prizes.
In fact, Gods Unchained is a blockchain version of the popular card game Magic: The Gathering, where players can earn money by playing. Cards are NFTs that can be traded in the marketplace, while native GODS tokens are the main in-game currency in which all transactions are conducted.
Summary
This was the list of the top games on the blockchain. The blockchain gaming space continues to evolve, with more and more new products appearing to find their audience and new ways for users to earn money. Perhaps you would like to fill this niche and develop your own blockchain game? The blockchain development service BC team will help you!