How do I find a grant for a Web3 project?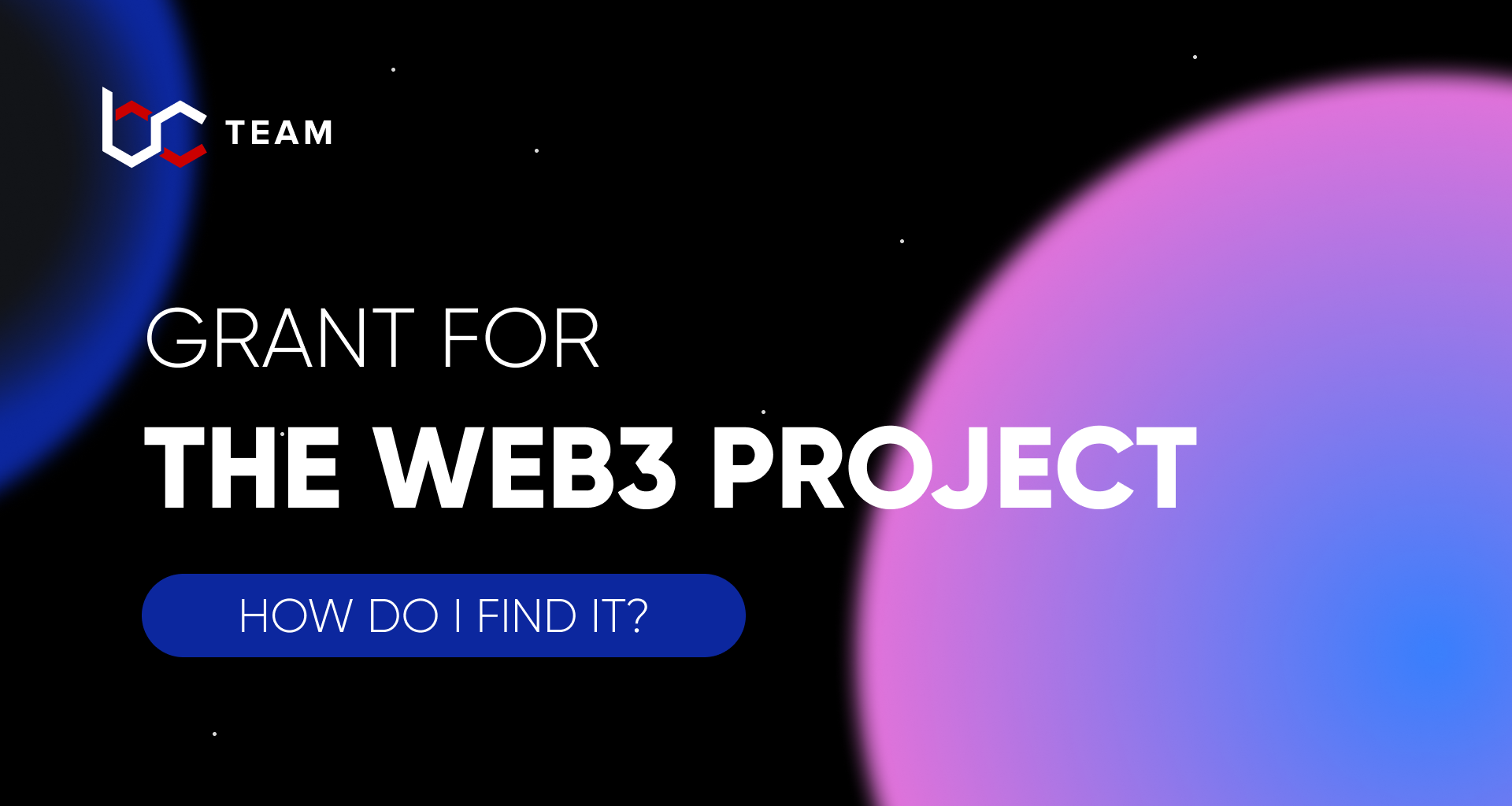 Web3 is both a concept about how the internet can be more decentralised, trustless and open, and one of the major growth areas in the digital world. According to Emergen Research, the global market for projects operating in Web3 stood at $3.2 billion in 2021, with an expected compound annual growth rate of 43.7% over the next decade. The trend is even more pronounced when it comes to investment in startups on the blockchain, which totalled $25.2 billion last year. This represented an incredible 700% increase on the previous year.
With applications ranging from cryptocurrency and NFTs to DeFi and the metaverse, it is no wonder that the space is brimming with innovation and ambition. Many entrepreneurs are looking to Web3 as a platform for the realisation of ideas that previously seemed unthinkable. Most of the time, these projects require more funding than the founders can provide themselves. One of the best options for anyone seeking to launch a Web3 project is to take advantage of the emerging ecosystem of grants on offer, including via decentralised funding mechanisms that were never an option for traditional startups. Fortunately, there are a huge number of grants available today, covering all kinds of startups across the early development stages.
Web3 Foundation
Founded in 2017 by Gavin Wood, Ashley Tyson and Peter Czaban, the Web3 Foundation funds research and development teams working on decentralised technologies, primarily across software development framework Substrate, blockchain platform and cryptocurrency Polkadot, and scalable blockchain network Kusama. The Web3 technology stack is complex and includes browsers, APIs, oracles, encrypted storage, data distribution protocols and platform-neutral languages. This means that the grants are potentially open to a huge variety of startups working on the technical side of the blockchain. In addition to funding, the foundation also provides research, advocacy and collaborative support. Over 300 projects from more than 50 countries have received grants so far, including wallets, client implementations and identity modules. A total of 123 grants were issued in 2021, and new developments can be tracked on GitHub, where all the relevant information about the awarding of grants is published.
The Web3 Foundation also offers $100,000 grants for public research projects intending to advance and explore protocols within the Web3 technology stack. The team is looking for projects with open source code that aim to significantly impact the decentralised ecosystem in the long term, with priority areas including benchmarking, new technical and economic primitives, analysis of existing protocols, and implementations and security testing.
Alchemy
Alchemy is a developer platform and 'decentralised superhighway', aiming to speed up blockchain, NFT and crypto projects through APIs and node infrastructure. Its ultimate goal is to become the industry standard platform for Web3 developers, something it is backing up with the launch of a $25 million developer grant programme announced in June 2022. With up to $50,000 available per startup, the team has announced that it is looking for projects increasing the utility of NFTs and making DeFi more accessible to both institutional and home traders. Interestingly, the Alchemy team said that the recent downturn in cryptocurrency market capitalisations had actually been a driving factor in launching the grant system, given that many companies had been forced to make redundancies and scale back projects, and new startups have been more reluctant to launch in the current climate.
NEAR Protocol
NEAR Protocol is a 'climate neutral' decentralised application (DApp) platform, using its native NEAR tokens (ranked 25th on CoinMarketCap as of July 2022) as payment for transaction fees and storage on its crypto platform. The platform aims to be speedier than classic blockchains through its sharding approach, whereby segments of the chain are distributed to various nodes that only have to handle a fraction of transactions. In October 2021, the NEAR Protocol announced an $800 million Global Ecosystem Fund, upping the stakes in the sector. Of this, $250 million is earmarked for ecosystem grants over the coming four years, alongside a $100 million regional fund and $100 million intended specifically for startups. The NEAR Foundation Grants Program is open to new projects in Ethereum Virtual Machine, wallets, infrastructure, social impact, NFTs, GameFi and the metaverse, DAOs and R&D. Different tiers are available – <$100K, $100–250K and $250K+ – while over 800 projects have been funded to date, with a total of $45 million allocated.
When it comes to DeFi grants specifically, the platform is currently taking applications for its NEAR DeFi Ecosystem: Proximity intake, which is looking for teams launching DeFi protocols on NEAR and Aurora, an implementation of an Ethereum Virtual Machine on the NEAR Protocol. Areas of interest include NFTs, metaverse and DAOs.
Avalanche Foundation
Avalanche is a blockchain platform that views itself as a rival to Ethereum and sees its competitive advantages in speed, affordability and environmental friendliness. Its native AVAX cryptocurrency was ranked 14th on CoinMarketCap as of July 2022. The Avalanche Foundation has hit the headlines over the last year with a number of funding programmes for new Web3 projects. In November 2021, it launched the Blizzard Fund, which also counts Ava Labs, Polychain Capital and Three Arrows Capital and more among its investors. Over $200 million was made available for accelerating growth, development and innovation across the Avalanche blockchain and ecosystem. This fund focused on four key areas: DeFi, enterprise applications, NFTs and cultural applications, while also emphasising security token issuance, liquidity providers and self-sovereign identity. In March, the foundation launched the $290 million Multiverse incentive programme and accelerator, which is intended to expand its 'subnet' and foster an ecosystem of scalable app-specific blockchains. The main areas of focus are GameFi, DeFi, NFTs and institutional use cases.
Celo
Celo is an Ethereum Virtual Machine-compatible proof-of-stake layer-1 protocol, serving as a mobile-first DeFi platform that aims to make DApps and cryptocurrency payments accessible for smartphone users all over the world, including unbanked users. As of May 2022, it had over 3 million wallet holders in 113 countries.
The Celo Foundation Grant programme aims to nurture the Celo ecosystem by supporting projects that are committed to building and primarily fall within the categories of ecosystem support, research, education and community, and social impact across DApps, blockchain infrastructure, DeFi, developer tools, and UBI. The fourth wave of grants, the recipients of which were announced in October 2021, received a combined $9.35 million across 50 projects. For more traditional fundraising, Celo operates the Celo Ecosystem Venture Fund, led by the Polychain Capital investment firm.
Ethereum Foundation
The Ethereum Foundation, a non-profit organisation supporting Ethereum and related technologies, has been running an Ecosystem Support Program (ESP) since 2019, providing funding and other support to Web3 projects within the Ethereum ecosystem. The focus is on startups that seek to strengthen Ethereum and encompasses developer tools, research, community building and resources, infrastructure and open standards. The ESP awarded a total of $7.7 million to 68 projects in 2019, $12.9 million to 99 projects in 2020, and $26.9 million to 136 projects in 2021.
Harmony
Harmony is a layer-1 blockchain launched in 2019 that uses sharding and features trustless cross-chain bridges to run Ethereum applications. The native ONE token is used for payment of transaction fees, governance and staking. Its effective proof of stake (EPoS) consensus mechanism is an attempt to solve the blockchain trilemma of decentralisation, scalability and security.
The Harmony Ecosystem Fund aims to make at least $180 million available for grants for Web3 projects and DAOs over the one-year period from Q4 2021 to Q3 2022, with a total of $300 million set to be delivered over four years. Harmony plans to reach 10,000 startups and improve the experiences of 10 million blockchain users with the funds. The types of DAO under consideration include those working in wallets, research, community, validation and development.
Interchain Foundation
Cosmos, pitching itself as an 'internet of blockchains', is an ecosystem of interoperable, sovereign blockchain apps and services that communicate via an Inter-Blockchain Communication (IBC) protocol. A proof of stake chain, Cosmos uses the native ATOM token, which was ranked 26th on CoinMarketCap by market capitalisation as of late July 2022.
The Interchain Foundation, whose mission statement is to fund and advance the Cosmos ecosystem, operates a programme of stewardship, investments and grants. While grants are currently on pause, the foundation has provided a significant number of startups with funding in recent years, covering research and engineering, products, security and community. In Q4 2020, 13 grants were issued for a total volume of $0.9 million.
Solana
Solana is a smart contract platform that prioritises speed and efficiency and uses top ten cryptocurrency asset SOL as its native token. The Solana Foundation operates the Solana Grants Program, which is open to new initiatives across a number of segments aiming to grow and secure the Solana network. Some of the key areas include censorship resistance, DAO tools, developer tools, education, payments, financial inclusion, climate change and academic research. The first wave of grants in 2020 supported 12 projects including oracles, bridges, wallets and infrastructure.